Duel players and bots to rise to the top League with your loadout assembled from collected weapons in this competitive game of endless skill and depth from Resolution Games.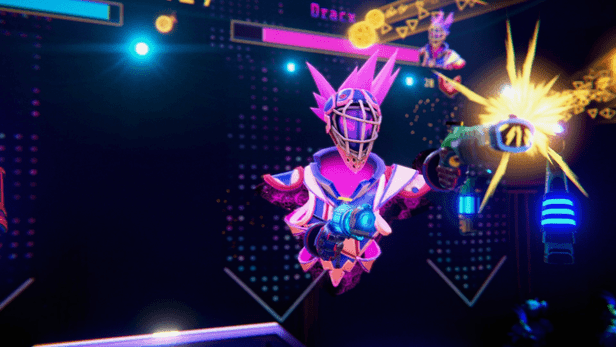 ---
In this slow-motion bullet-hell, duck, dodge, and weave to evade incoming attacks while preparing your dazzling next combos in a flash of skill. You'll feel like Neo and leave each session with your heart racing in this super fun tactical workout.
Duel players in real-time from around the world
Level-up to collect weapons of increasing depth
Participate in officially hosted Blaston tournaments
Create your own strategic weapon loadout
Learn new tricks, add them to your strategy & play style
Hang out in the Ozo Lounge - play arcade games, fist-bump to start a friendly duel, play darts & take photos to upload to Discord
---
Hello from the team at Resolution Games and we're excited to have you take part in the Early Access release of Blaston for Arcades.
Over the coming weeks and months, our team will be listening to your feedback regarding our most recent release, Blaston, to help make it the best LBE experience possible.
Initially, operators will be provided with Steam keys for the retail version of Blaston. (These keys will be deactivated after the arcade build of Blaston is released)
As our team progresses in the development process, we will be transitioning away from Steam keys to use your respective platforms preferred distribution method.
To thank you for your support and participation, Blaston will be FREE during the Early Access period!